Record Site Plan of 'A' Site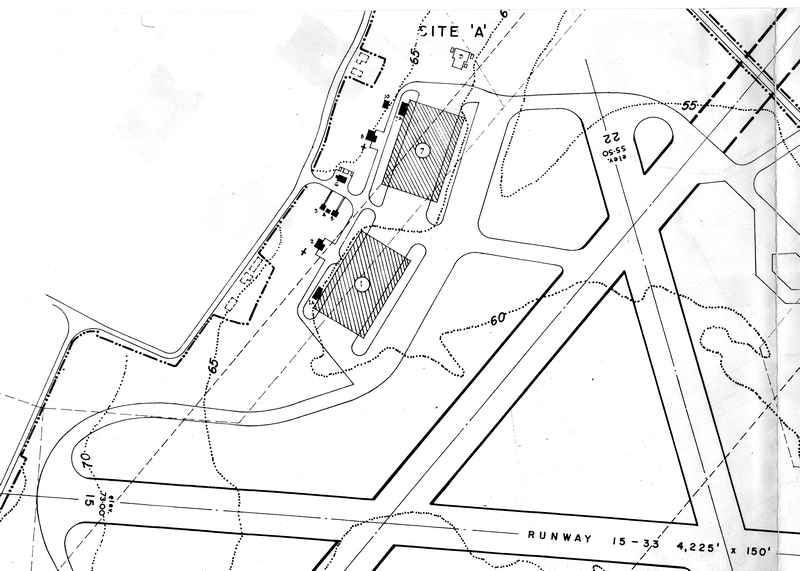 'A' Site
'A' site was located East of 'E' site alongside the Northern perimeter fence.
The entrance gate was off Wright's Lane with the gatehouse being on the left when entering the site.
The gatehouse was number 6 on the site plan.
2 'K' type hangars were constructed and built to Air Ministry Drawing No. 3084/39 numbered 1 & 7 on the site plan (above).
The hangars were constructed of steel lattice frame with a curved roof and covered with 1/4 inch steel plate.
The side of each hangar had brick annexes running down the full length of both sides. The brick annexes supported reinforced concrete flat roof.
The hangar doors were filled with gravel or sand to absorb any enemy gun fire.
The dimension of the hangars were:
Door openings 150 feet wide by 30 feet high.
Length was 300 feet long comprising of 18 bays. Each bay was 16 feet 8 inches in depth total coverage was 46,206 square feet.
This type of hangar was built on other aircraft service units throughout the Country.
The 'K' type hangar was designed to store & maintain aircraft & the annexes were used for storage.
Across the airfield one of these hangars was built on Technical site.
'A' site was not fully built until the 1st of February 1941 & was originally called 'No. 4 Storage Site'.
37 MU (Maintenance Unit) arrived on 'A' site in 1941.
The USAAF took control on the 15th of July 1942 and the site was then used for the maintenance and modification of all types of their aircraft.
Flight testing used 'A' site before moving across the airfield to Technical Site in early 1944.
During 1943 the Aircraft hard standings were enlarged by the USAAF by the laying of 5,300 yards of concrete.
At the end of WW2 the RAF were back on 'A' site.
On September 1948 the USAF were back.
The Americans left in the late 1950's and control was again handed back to the RAF on the 18th of June 1965.
'A' Site was demolished in November 2008.
The site is now an industrial estate & a new approach road leads to 'A' Site & 'E' Site from Burtonwood Road named Lockheed Road after the famous P38 Lockheed Lightning aircraft.
WW2 Aerial Image of 'A' Site Showing Numerous B-17's Parked up.

Note the Camouflage Netting Between Number 1 & 7
Hangars to Hide the Line of the Hangars.
The Guard House (Building Number 6) is in the Middle of the Photo at the Bottom.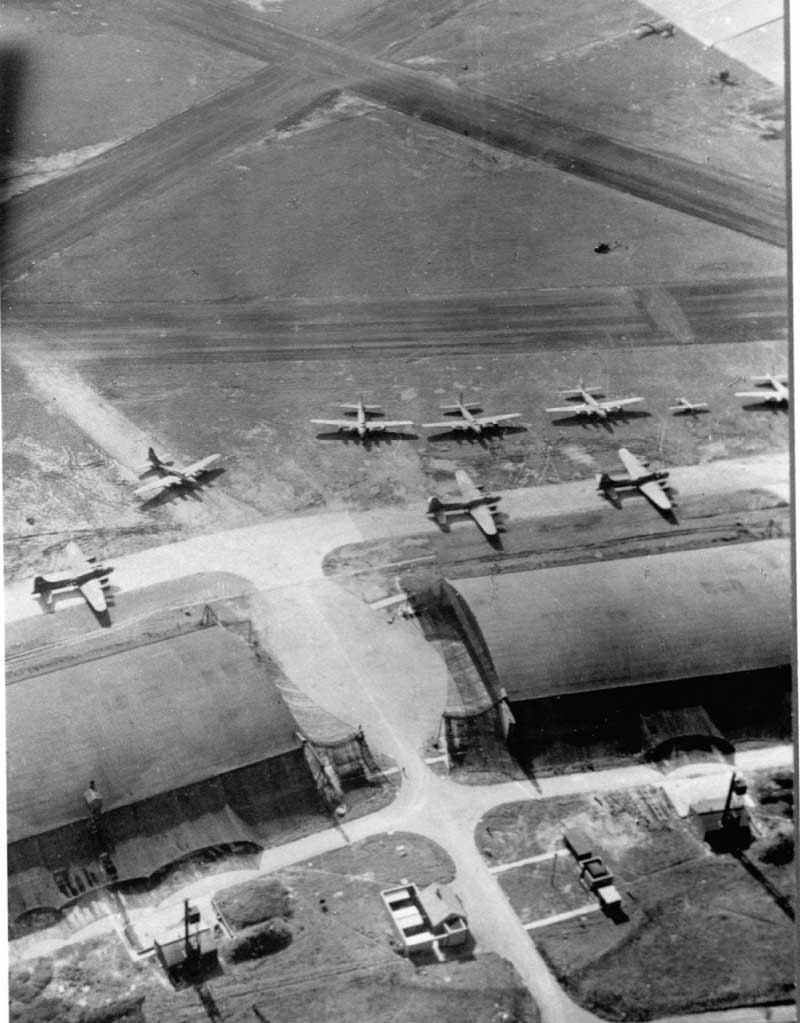 A Mural of a B-17 Painted on a Wall (During WW2) inside 1 of the 'K' Type Hangars.
(Photo Taken 2008)
Looking Down the North Perimeter Track Towards 'A' Site.
The Threshold of Runway 15 is on the Right of the Photo.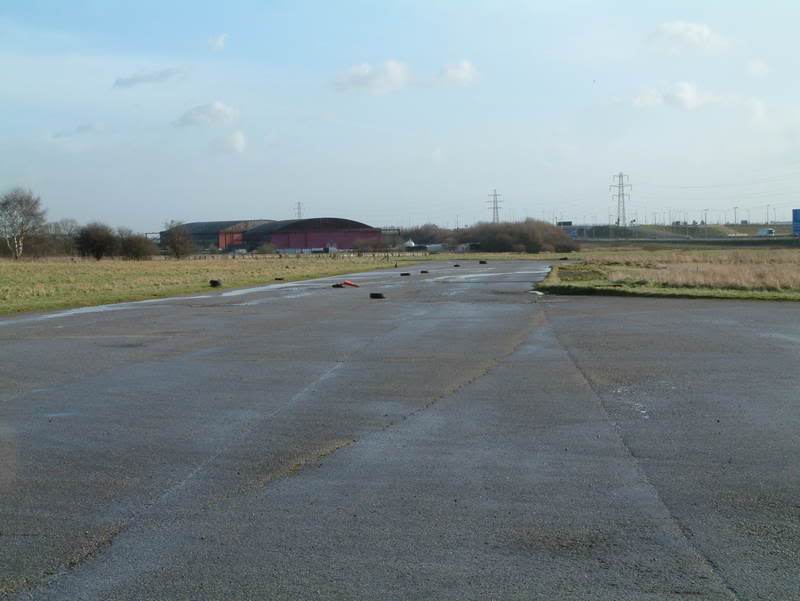 'K' Type Hangar Number 7 (Photo Taken 2008).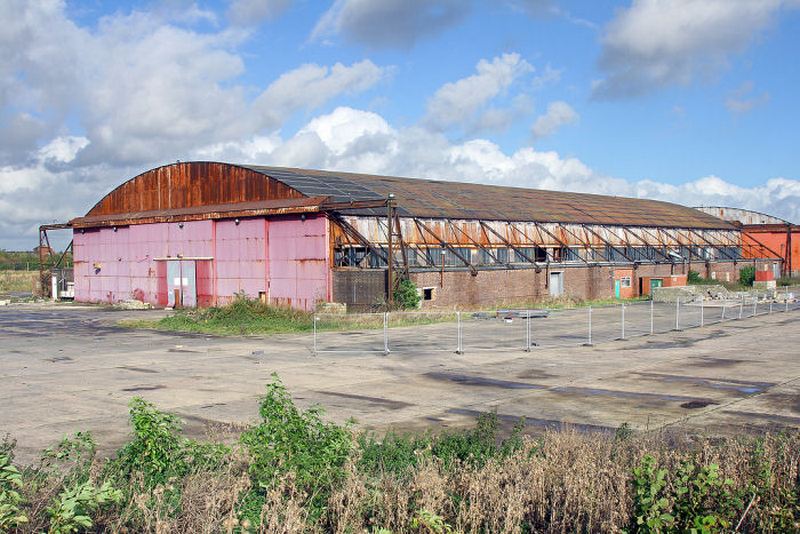 'K' Type Hangar on 'A' site When Being Used as an Industrial Unit.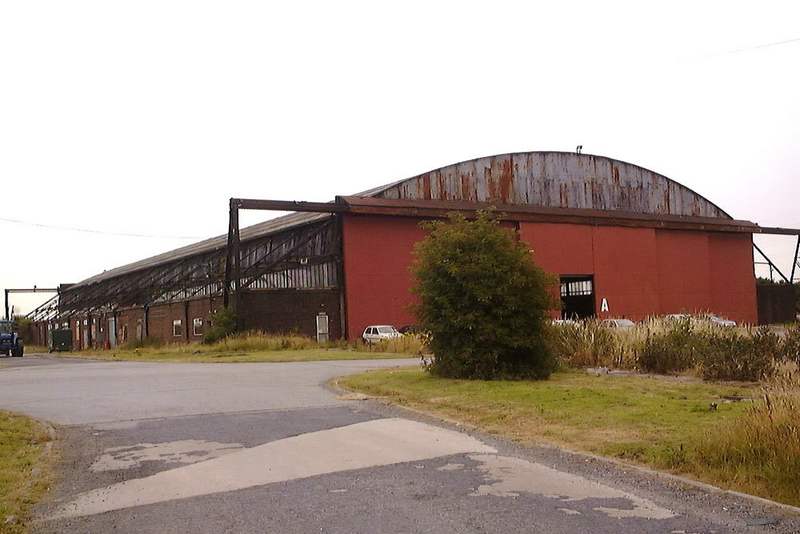 Electrical Transformer Plynth (Building Number 4)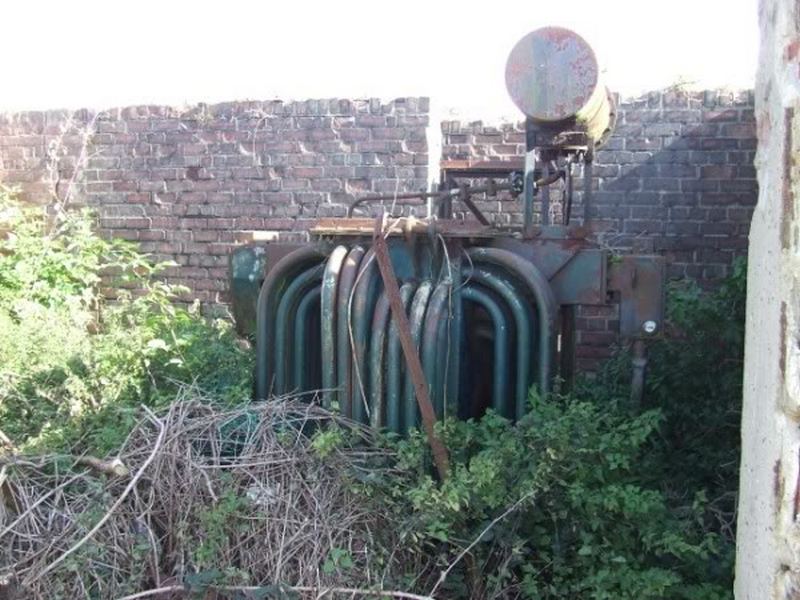 More Pictures etc Coming Soon Regarding 'A' Site .....
<-------- Click Here to Go Back to Burtonwood Home Page