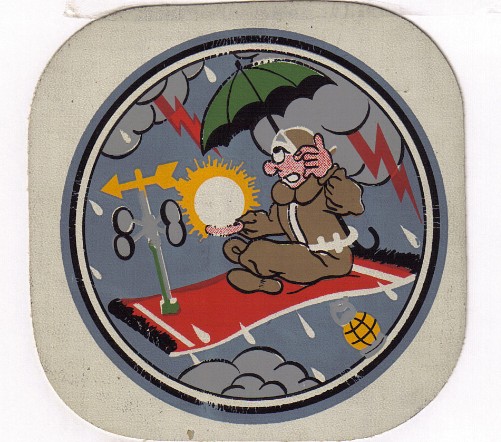 The 53rd WRS moved to Burtonwood in November 1953 & used the 'C' type hangars on Mary Ann site, with a complement of 8 converted B-29 bomber's to WB29's & later replaced with WB-50's.
They were assigned to collecting weather data for (MATS) which stands for 'Military Air Transport Services'.
Each day they flew triangular patterns known as 'Falcon Flights' covering about 2,600 miles & averaging 16 hours each flight over the Atlantic.
'Delta Flights' left each day at Burtonwood at: 0700 hrs GMT & flew a track to the Azores - then South of Greenland – then set course East, back to home base at Burtonwood.
The flight was 3,686 miles long & the average flying time was 15 hours.
The weathermen on the aircraft recorded data such as: Pressure, Temperature, Wind Speed, Humidity, Cloud Conditions & Visibility.
The 53rd WRS left Burtonwood for re-assignment to Alconbury in Cambridgeshire in April 1959.
53rd WRS Crash at Lupton Fell (Nr Kendal in the Lake District)
On the 25th of October 1955 Falcoln Flight WB-29-44-61600 Superfortress developed engine failure on engines 1,2 & 4 at 3,200 feet & crashed.
All 11 crew safely landed by parachute & the aircraft was abandoned.
The very next day, personnel from Burtonwood arrived at the crash site & began to investigate what caused the aircraft crash & too remove all of the wreckage.
Earlier this month (May 2012) we were lucky enough to make contact with someone who was actually involved with the 53rd WRS.
His name is 'Dennis Sullivan' & he served at Burtonwood from Feb/1954 till Feb/1957.
Here in Dennis's own words is what his role was in the 53rd & a little about the system that they used whilst on these long missions:
"My job was a Ground Crew Chief (I was Staff Sgt.) in charge of the airborne radar systems for 4 of our 8 planes. There were three systems on each plane.
Navigation (this was the familiar circular display that depicts the land mass below), the second system was LORAN which gave you three points of reference which then enabled you to determine your position.
The last was a radio altimeter which gauged your altitude.
The normal complement of crew was ten. I was not a crew member on flying status. I was only on a flying crew if there was a malfunction in the air that wasn' t apparent when airborne."
Below are photos that Dennis has kindly emailed to us from his own private collection (please NO copying without permission from Dennis himself).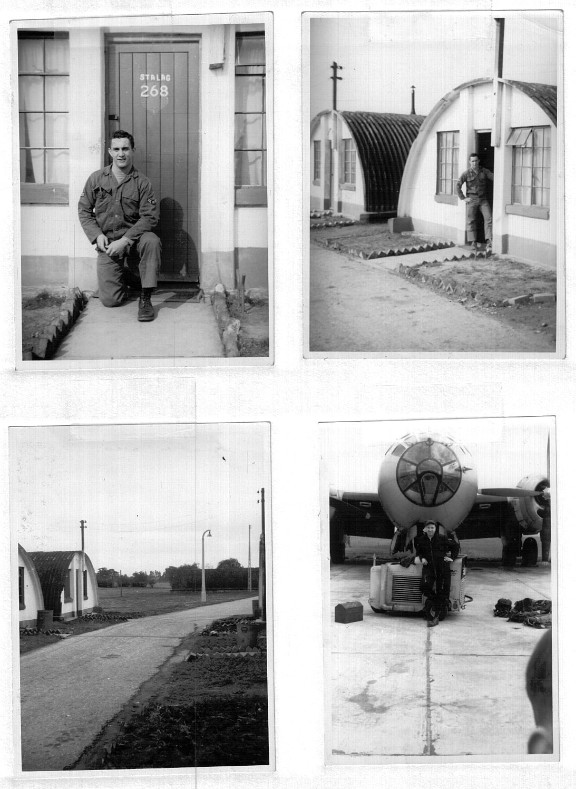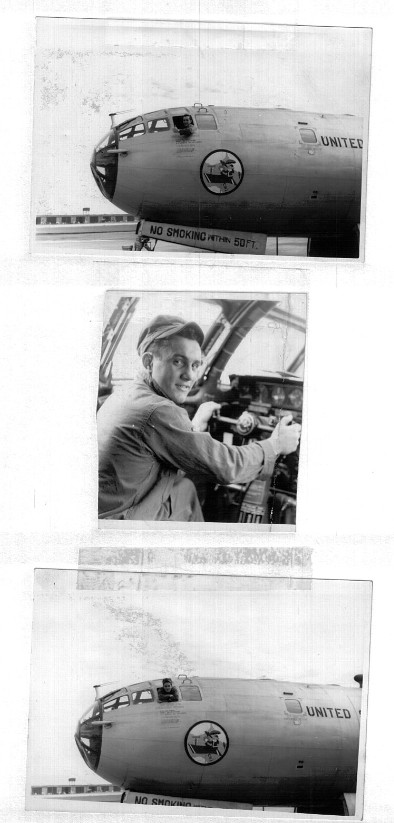 Boeing WB50 Super Fortress Landing at Burtonwood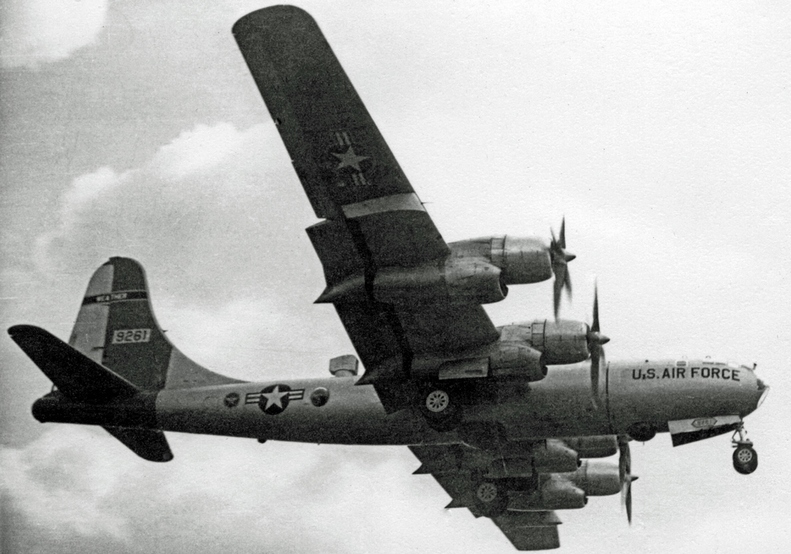 Boeing WB50 Super Fortress on one of the 'Open' Days in the 1950's.

(Note the weather sampling turret on top of the fuselage)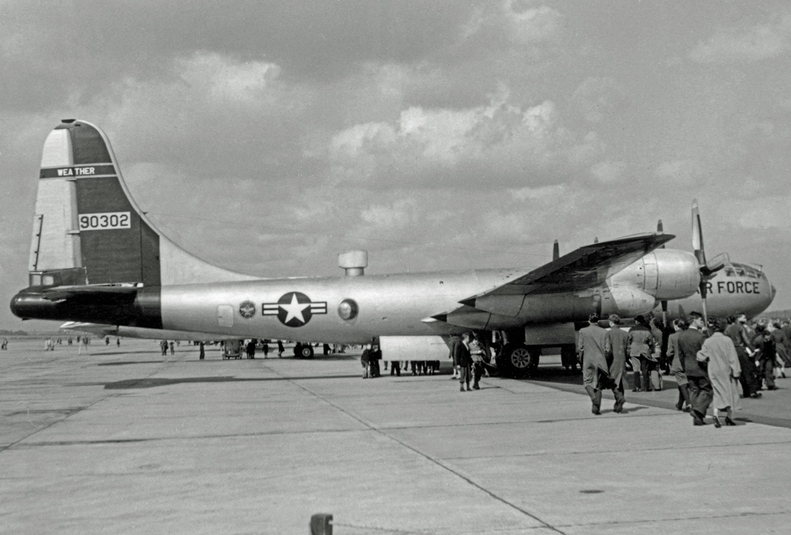 Boeing WB50 Super Fortress on Mary Ann Site Next to one of the 'C' Type Hangars.

(Fiddler's Ferry Cooling Towers Can Clearly be Seen in the Background)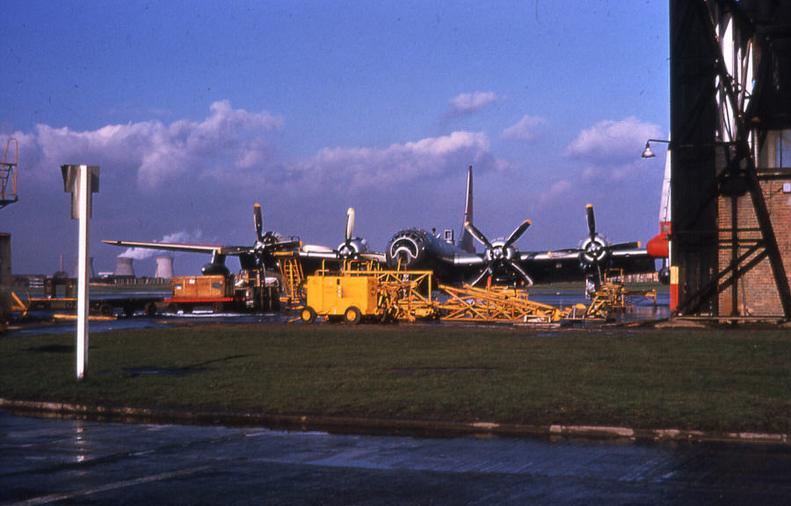 53rd Weather Reconnaissance on a Falcon Alpha Mission 1957 Over the Ice Pack.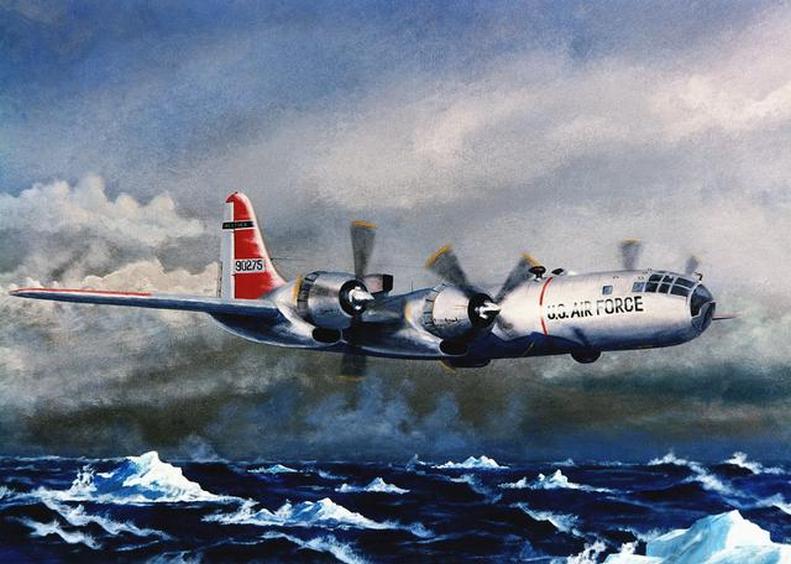 53rd Weather Reconnaissance Loading Mailbags of Children's
Christmas Cards to be Dropped at the North Pole for Santa Claus.